TADARUS COMPETENCIES OF EFFECTIVE COMMUNICATION AND INFORMATION MANAGEMENT IN THE STANDARD CHARACTER & COMPETENCE OF MUHAMMADIYAH DOCTORS (SKKDM), BEM FK UNISMUH IN COLLABORATION WITH THE DEPARTMENT OF AIK FKIK UNISMUH PRESENTS THE INITIATOR OF SKKDM.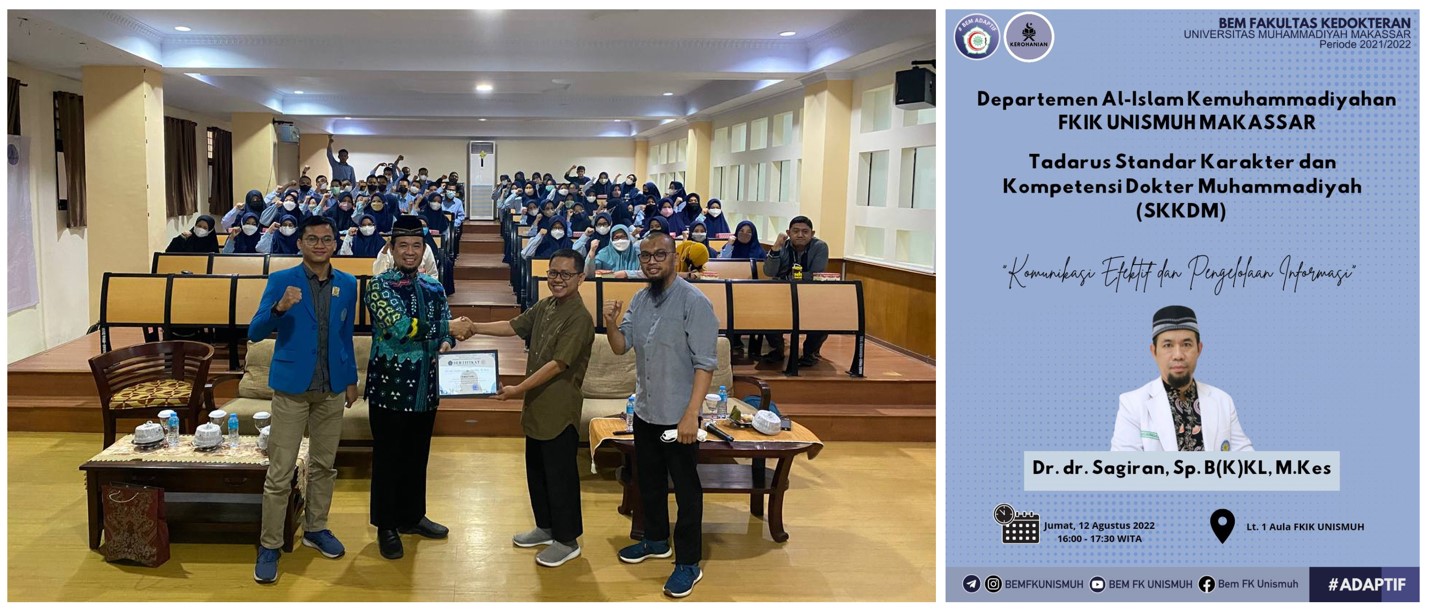 FKIK Unismuh- FKIK Unismuh's medical education programs, both undergraduate and professional, have ratified the SKKDM into their educational curriculum. SKKDM is an APKKM product that has been determined and mandated to be implemented by the Education and Research Council of the Muhammadiyah Central Leadership for medical education organizers within Muhammadiyah / Aisyiah Universities.
BEM FK Unismuh for the 2021-2022 period, regularly carries out the SKKDM Tadarus for its members. Tadarus activities are in the form of an assessment of the content of SKKDM, related to the competency areas and character of doctors graduating from Muhammadiyah Universities.
In collaboration with the FKIK Unismuh AIK Development Department, the organization of the SKKDM tadarus in the competency area of effective communication and information management presented one of the initiators & formulators of SKKDM, DR. dr. Sagiran, M.Kes, Sp.B (K)-KL.
Noted, he is the Chairman of the Nur Hidayah Sehat Mandiri Foundation (manager of Nur Hidayah Bantul Yogyakarta Hospital), Head of the Surgery Section of FK UMY, National Sharia Hospital Assessor, etc. Dr. dr. Sagiran has published 14 books, 4 patents on medical devices; and has received an award as a national halal activist figure.
In his presentation, Dr. dr. Sagiran outlined the components of effective communication, the urgency of these competencies for the medical profession in relation to patients, therapeutic communication, and muamalat competencies for doctors who graduated from Muhammadiyah universities; accompanied by direct examples from his long practical experience.
The tadarus activity took place on August 12, 2022, with the attendance of FK Unismuh students, lecturers and leaders of FKIK Unismuh, in the Lecture Room 3rd Floor FKIK Unismuh Makassar.