FKIK UNISMUH HOLDS PROFESSIONAL EDUCATION COORDINATION MEETING WITH RSUD SYEKH YUSUF GOWA DISTRICT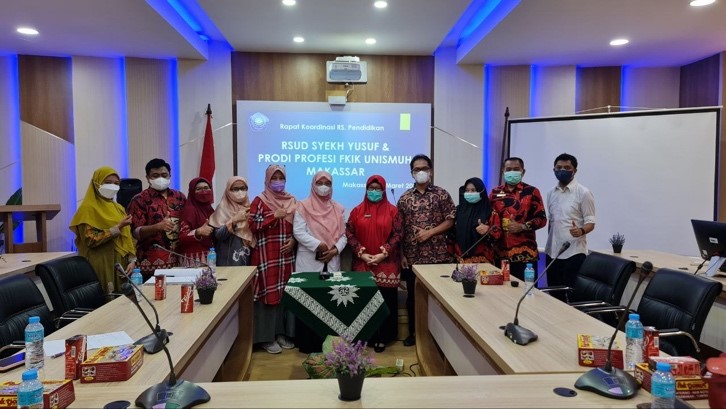 FKIK Unismuh Doctor Professional Study Program – The Doctor Professional Study Program of the Faculty of Medicine and Health Sciences (FKIK), Universitas Muhammdiyah (Unismuh) Makassar held a coordination meeting for teaching hospitals. In this activity, the invitation was attended by the Regional General Hospital of Sheikh Yusuf Gowa Regency.
Regional General Hospital Sheikh Yusuf Gowa Regency, is a Classification B hospital, located in the capital city of Gowa Regency. Built since 1981, RSUD Syekh Yusuf is a hospital owned by the Regional Government of Gowa Regency whose operations began on April 1, 1982.
On December 9, 2011, RSUD Sheikh Yusuf of Gowa Regency successfully obtained a certificate of Advanced Full Accreditation by the Hospital Accreditation Committee (KARS) Team for 12 types of services namely: Administrative Services, Medical Services, Emergency Services, Nursing Services, Medical Record Services, Operating Room Services, Laboratory Services, Radiology Services, High Risk Perinatology Services, Infectious Disease Control Services, Pharmaceutical Services, Occupational Health and Safety (K3) Services. Thus, the RSUD is increasingly required to provide maximum services according to Minimum Service Standards (SPM).
The meeting took place on March 31, 2022 in the meeting room lt. 2 FKIK Unismuh Makassar building. The coordination meeting discussed the further development of the collaboration between FKIK Unismuh and Syekh Yusuf Hospital; which has been one of the vehicles for professional education of FKIK Unismuh doctor profession program (MPPD) students. Attending from FKIK were faculty leaders and leaders of the Professional Doctor Study Program; while from the RSUD were the head of the general department, director of medical services, and clinical education doctors.