GIVING SCIENTIFIC LECTURES TO WELCOME RAMADAN, PROF. HUSNI TANRA MOTIVATES UNISMUH ACADEMIC COMMUNITY TO ACHIEVE THE HIGHEST SCIENTIFIC ACHIEVEMENTS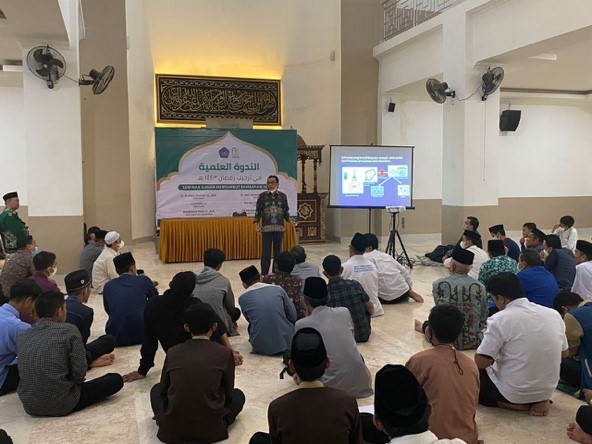 FKIK Unismuh– The Faculty of Medicine and Health Sciences (FKIK) of Universitas Muhammadiyah (Unismuh) Makassar presented one of its lecturers, Prof. dr. A. Husni Tanra, Ph.D, Sp.An-KMN, as a speaker in a scientific lecture welcoming Ramadan on the Unismuh Makassar Campus.
The activity took place after dzhuhur prayer, Thursday, March 31, 2022 at the Subulussalam al-Khoiri Campus Mosque, Unismuh Makassar. The scientific recitation was attended by the Unismuh academic community. Present gave an introductory speech to the Rector of Unismuh Makassar, Prof. DR. Ambo Asse, M.Ag.
Prof. Husni Tanra in his presentation conveyed the biomechanism of autogaphy during fasting activities, which according to him provides extraordinary health effects for those who fast. The mechanism was only clearly understood in 2016 by a Nobel laureate in Medicine from Japan, Yoshinori Ohsumi. Regarding the achievement of the Scientific Nobel, Prof. Husni encouraged all Unismuh academicians to aspire to the same achievement.
Prof. Husni Tanra himself is one of the lecturers of FKIK Unismuh. He previously served as director of Postgraduate Program at Unhas, as well as director of one of the leading private hospitals in Makassar. While in college, he was the first medical student from Indonesia to study and earn a doctoral degree in Japan. Currently, Prof. Husni is the Chairman of the Association of Medical Doctors of Asia (AMDA) Indonesia. In March 2021 Prof. Husni received the Star of Merit "The Order of the Rising Sun, Gold Rays with Neck Ribbon" from the imperial government of Japan for his services in enhancing academic exchanges and friendly relations between Japan and Indonesia.