FKIK Unismuh Gelar Webinar Internasional, Hadirkan Narasumber dari King Abdul Azis University Saudi Arabia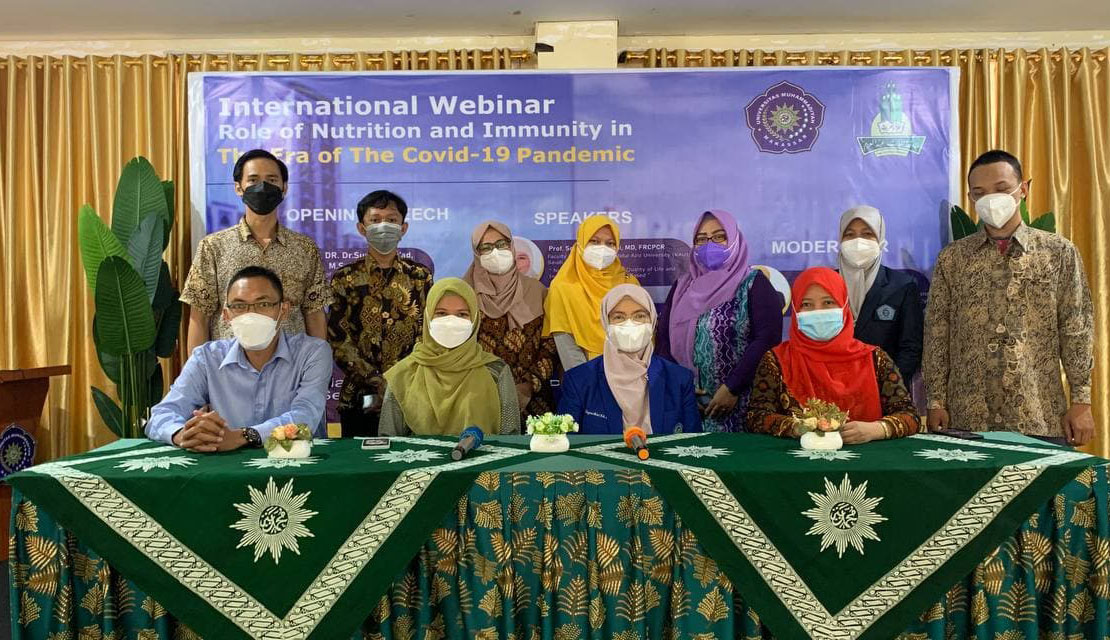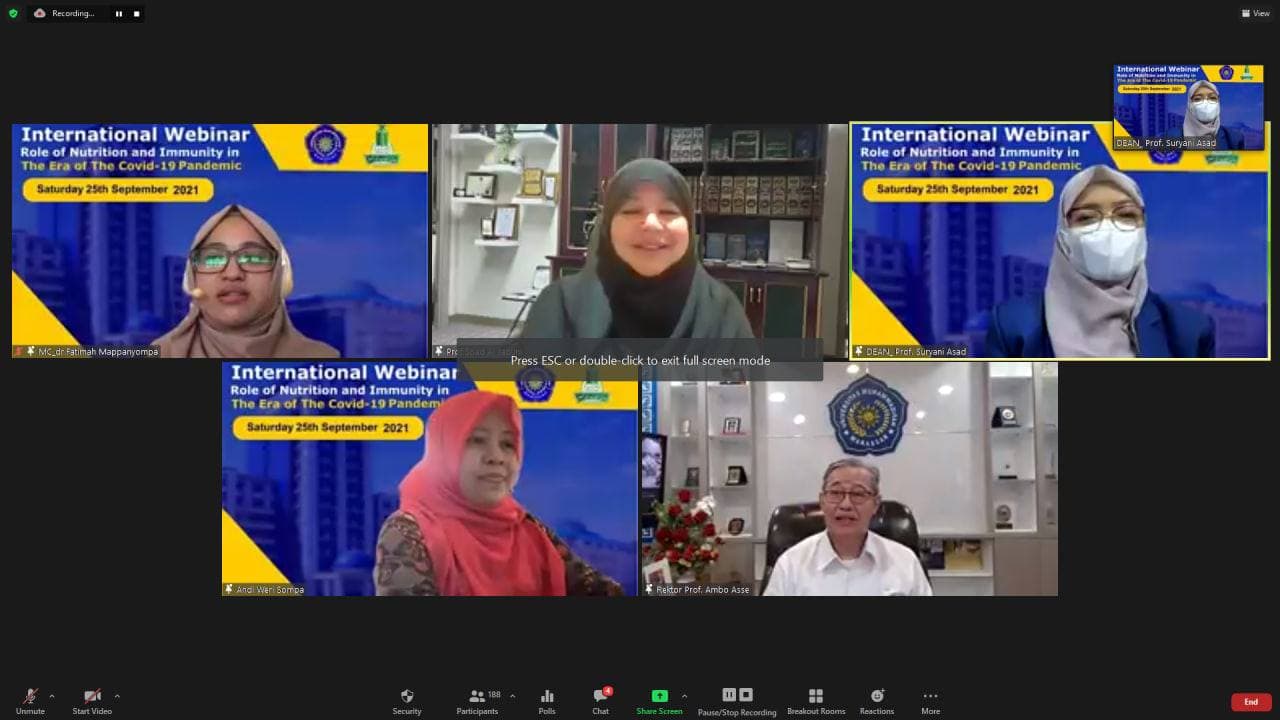 MAKASSAR, Fakultas Kedokteran dan Ilmu Kesehatan (FKIK) Unismuh Makassar baru-baru ini (25/9/2021) menggelar webinar international via zoom dengan dipandu oleh Wakil Dekan I FKIK Unismuh, Dr. A. Weri Sompa, M.Kes, Sp.S.
Webinar International ini menghadirkan dua pembicara, yakni Prof. Soad Khalil Al Jaouni, MD, FRCPCR dari Universitas King Abdul Azis Saudi Arabia serta Dekan Fakultas Kedokteran dan Ilmu Kesehatan Unismuh Makassar, Prof. DR. dr. Suryani As'ad, M.Sc, Sp.GK(K).
Webinar international ini mengambil tema "Role of Nutrion and Immunity in the Era of the Covid-19 Pandemic" serta dibuka oleh Rektor Unismuh Makassar, Prof. DR. H. Ambo Asse, M.Ag.
Rektor dalam sambutan yang disampaikan dalam Bahasa Arab mengutarakan apresiasi atas terlaksananya kegiatan webinar, juga ucapan terima kasih atas kesediaan Prof. Soad dari King Abdul Azis University untuk terlibat dalam kegiatan ini.
Prof Soad K. Al Jaouni yang juga ahli dalam bidang Hematologi, sebuah bidang medis yang fokus meneliti darah manusia, dalam webinar ini mengambil topik "Nutrition Can Improve the Quality of Life and Increase Immunity: Evidence Based".
Dikatakan nutrisi sangat berperan penting dalam siklus kehidupan, terutama dalam meningkatkan kualitas hidup dan kekebalan tubuh (imunitas) manusia. Dalam kasus Covid-19, pasien umumnya terkait dengan penurunan imunitas, yang antara lain karena ketidakcukupan gizi.
Prof. Soad juga memaparkan pengalaman langsung beliau dalam meneliti dan menerapkan beberapa prinsip 'thibbun nabawi' dalam protokol pengobatan di institusinya.
ementara Prof. Suryani mengangkat topik "Nutritional Need for Covid-19 Patient". Prof. Suryani mengatakan kebutuhan nutrisi pada pasien Covid-19 harus tercukupi untuk prognosis kesembuhan yang optimal, seperti vitamin, karbohidrat, dan lainnya.
Kepanitiaan webinar diketuai oleh dr. Rima J. Putri Ridwan Gani, Sp.GK dengan master of ceremony dr. Fatimah Mappanyompa. Webinar diikuti oleh 344 orang dari berbagai institusi, baik dari Indonesia maupun Timur Tengah. Beberapa tanggapan dan pertanyaan di sesi tanya jawab, berasal dari peserta luar negeri tersebut.