FKIK UNISMUH DEAN ELECTED CHAIRMAN OF THE BOARD OF CONSIDERATION OF THE INDONESIAN PRIVATE MEDICAL FACULTY ASSOCIATION 2022-2025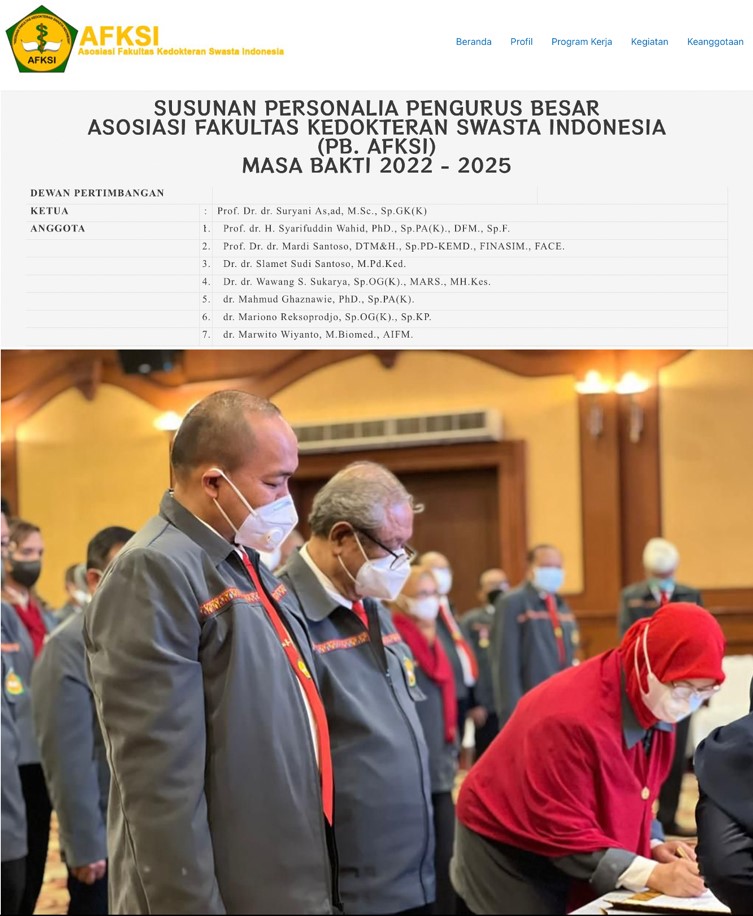 FKIK Unismuh- After successfully holding a national meeting (Munas) of the Indonesian Private Medical Faculty Association (AFKSI) in July 2022 in Lombok, NTB. Now, the AFKSI board again held an inauguration event and a big board working meeting (PB Raker) which was held on Sunday 4/9/2022 at Lombok Raya Hotel, Mataram City. A total of 35 people were inaugurated as administrators with backgrounds of deans, professors, and structural officials representing private medical faculties in Indonesia.
Dean of FKIK Unismuh Makassar, Prof. Dr. Suryani As'ad, M.Sc, Sp.GK (K) on this occasion was elected and inaugurated as chairman of the Advisory Board of the Indonesian Private Medical Faculty Association (AFKSI) for the period 2022-2025.
Chairman of the AFKSI Inauguration and Work Meeting Committee, Dr. Alfian Muhajir, S.Ked, MM, said that this activity was held in a day which was divided into two sessions, namely the inauguration and work meeting. Almost 90 percent of the board members attended this event. "We thank you for the presence of ladies and gentlemen and the organizing committee for facilitating the implementation of activities today," said Dr. Alfian.
PB AFKSI Chairman for the 2019-2022 Period Dr. Wawang S. Sukarya, Sp.OG (K), MARS, MH.Kes as chairman of AFKSI Purna Bakti in his speech said that AFKSI's age is not young. It has reached the age of 50 years so it is necessary to merge with each other and be proud of this organization with all the dynamics that have been passed so far. This period has produced the articles of association and bylaws of the organization so that AFKSI has rules of the game. And of course it is necessary to unite steps and have the same goal in organizing medical education in Indonesia. "Therefore, I hope Dr. Artha will be able to continue this leadership with good planning, clear activities, and monitoring of activities. Let us be more compact and solid, starting with multicenter research. So that we are more confident with the potential we have," said Dr. Wawang.
The next event, the AFKSI financial handover procession by the AFKSI Purna Bakti chairman to the PB AFKSI chairman. Then continued with the signing by PB AFKSI treasurer and AFKSI Purna Bakti Secretary General. Dr. dr H Artha Budi Susila Duarsa, M.Kes was elected as the General Chairperson to inaugurate and take promises as PB AFKSI 2022-2025 personnel which were carried out sacredly and solemnly.
PB AFKSI Chairman who is also the Dean of FK UNIZAR (Al-Azhar Islamic University) Dr. H Artha Budi Susila Duarsa, M.Kes felt happy after being elected by acclamation as chairman during the AFKSI National Conference in Lombok. This time in the same place the inaugural PB AFKSI 2022-2025 working meeting was held. "I want our team to be a strong team, more of a collegial collective. I try to keep asking seniors and professors to join me in AFKSI because I cannot work alone. I went to several private faculties to equalize perceptions and establish communication on where to take this organization," explained Dr Artha.
From the meetings that have been held, Dr. Artha believes that during the working meeting tonight he will get the same framework to get the coverage of medical education by AFKSI members. "A harmonious relationship for me will make a positive and productive contribution for all of us," he said. "I ask for your help in running our organization amidst the busyness of taking care of each FK. Thus our AFKSI will advance and be respected at the national and international levels as an organization that deserves to contribute to medical education institutions," concluded Dr Artha.
This activity was coupled with a sharing session on Indonesian medical education regarding the fundamental strategy of the Association of Indonesian Medical Education Institutions (AIPKI) in improving the quality of medical faculties in Indonesia. With various disparities that exist by the Chairman of AIPKI for the 2022-2025 Period Prof. Dr. Budi Santoso, Sp.OG (K) and moderated by Dr. Artha as Chairman of PB AFKSI. Currently, there are 51 private faculties in Indonesia with wide differentiation. This sharing session is a medium for mutual sharpening, fostering, and collaboration. In this case, PB AFKSI administrators want to see further the strategy and direction of AIPKI's steps for medical education institutions, including AFKSI which is incorporated in it. "Our meeting tonight is very constructive and productive. So that we can finalize after receiving input from the board of consideration and the expert council to immediately implement the AFKSI program," concluded Dr. Artha.
The event was also enlivened by Dr. Denta Haritsa Apriliana, S.Ked, winner of Sunsilk Hijab Hunt 2016 who is also a young lecturer at FK UNIZAR. Her beautiful voice entertained the Raker participants with two songs, namely Cintaku belonging to